Learn. Achieve. Succeed.
Disability Compliance and Inclusion Training Taught by Experts.  
Welcome to the HirePotential Learning Academy
HirePotential is a group of consulting and training experts that help companies integrate top talent and retain current employees with disabilities. With over 30 years of specialized disability consulting, we've helped today's leading companies become a best practice in workforce inclusion. Our convenient, flexible and scalable training courses are based on years of experience in disability implementation and successful hands-on training with a wide variety of audiences including recruiters, hiring managers, employees and more. This proven model makes integrating hiring talented people with disabilities easy and 100% worry free.
Learn More
Convenient, Flexible and Scalable Training Courses
The HirePotential Learning Academy offers courses developed by experts to help companies meet federal guidelines for disability inclusion and increase productivity in the workforce. Our wide-range of online training modules are provided on an eLearning platform, as well as in a comprehensive digital product line of eBooks and live webinars.
Today's most popular subjects include: compliance, recruiting, hiring, supervising, accommodating and retaining individuals with disabilities.
We offer courses in several formats tailored to meet your needs. All of our training modules are readily available at the HirePotential Learning Academy site, or can be hosted at your company and customized with your brand, logo and company name.
Start your training today and make your company more accessible for candidates, employees and customers with disabilities.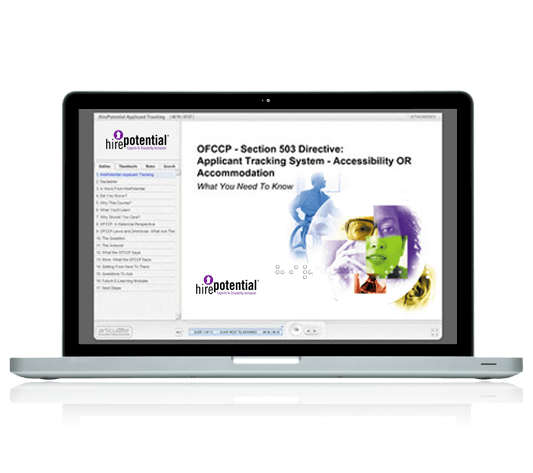 Improve Productivity with Expert-Led Online Courses — Anytime, Anywhere
Unlimited Access
Choose topics from our extensive library in the right format to meet your needs
Expert Trainers
Learn from disability compliance and inclusion experts who have trained workforces at today's leading companies
Custom Brand
All courses may be branded with your company name and logo
On the Go, Self-Paced Training
Easy access to training for individuals, teams and corporations
"HirePotential understands the complex nature of our business as a very large company and helps us make people productive."