Accessibility 101: Procurement eBook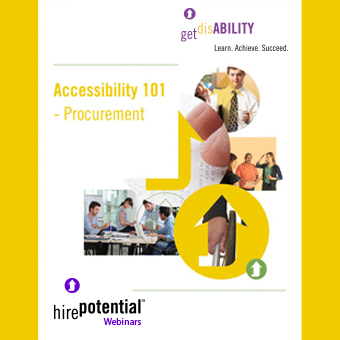 Even if your organization is a model of accessibility and compliance, the vendors and subcontractors you work with may fall short. Ensuring everyone you do business with meets or exceeds accessibility standards can give you the edge on government contracts and with other companies. Make sure accountability is part of your process and built into every agreement you sign so you aren't inadvertently putting your organization at risk.
This eBook can help you: add accessibility requirements to your process, assist with verifying that third-party providers are disability friendly and not a liability, integrate standards into your own contracts, learn and view examples of Voluntary Product Accessibility Templates® (VPAT®), create your own VPAT, and more. Don't wait and find out after the contracts have been signed that your third-party vendors aren't making the accessibility grade. Make sure you're working with savvy organizations like your own that are proactive and insist on higher standards to be more inclusive of all individuals.