Accessibility 101: Web Content Guidelines eBook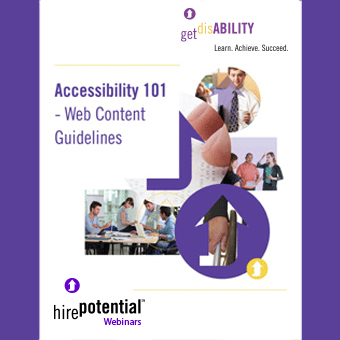 Your website may be accessible from anywhere in the world, but you could still be creating barriers and missing out on potential customers, candidates and employees if its content is not friendly toward those with disabilities. From navigating your pages to applying for jobs, if your website isn't meeting standards, your organization could be inadvertently noncompliant with ADA/ADAAA regulations or missing out on a competitive advantage. All it takes is one employee who can't access your HR information and you could have an ADA issue on your hands.
Featuring clear text, practical advice and real life examples, this eBook teaches the four principles of web content accessibility. You'll learn how to incorporate Web Content Accessibility Guidelines (WCAG) 2.0 standards and the World Wide Web Consortium's (W3C) recommendations to ensure your controls, navigation and forms can be operated and understood by every page visitor. Make certain your IT developers or third-party vendors are creating content that's truly accessible to everyone, everywhere and start making your site more engaging for all.