Accessibility 101: Tutorials eBook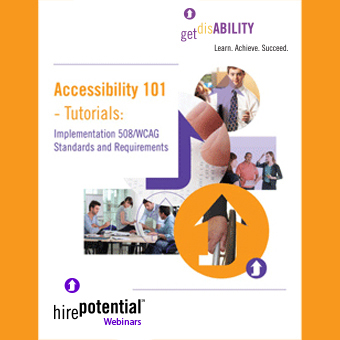 Tutorials – Implementation 508/WCAG Standards and Requirements
Did you know that most PDFs are not accessible to those with disabilities? Making sure your website is user-friendly for all visitors takes specialized knowledge and expertise above and beyond that of many IT developers and web designers. That's why we've created our tutorial eBook to be the definitive web designer's guide to creating better, more accessible sites for those with disabilities. No more scouring the internet for hours searching for best practices and the latest guidelines. Get all the essential information you need to get started with just one eBook.
From Flash® and email, to images and links, this eBook will help you implement the 508/WCAG (Web Content Accessibility Guidelines) you need to stay competitive and in compliance. Featuring easy-to-follow tutorials created by industry experts, you'll learn best practices for using forms, logos, images, presentations, documents and more. You'll also discover pitfalls to avoid, as well as other smart ways to ensure your website is fully accessible for all users. Getting your website up to speed for those with disabilities has never been easier.