Web and IT Accessibility 101: The Starter Tool Kit eBook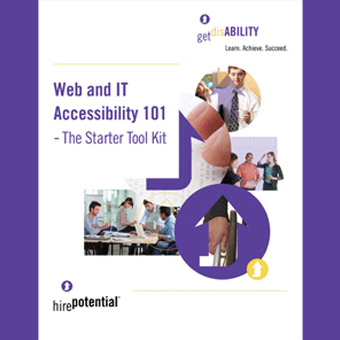 Navigating the complexities of disability compliance and inclusion is an imposing task at best. Add in the challenges of the internet and technology and it can seem nearly impossible to cover all your bases. That's where our Accessibility 101: The Starter Tool Kit eBook comes in.
We've taken the best of all our eBook series and put together the ABCs of web accessibility into one time-saving place. You'll get a solid foundation covering every aspect of web accessibility with plenty of real life examples, including IT accessibility policy, procurement, WCAG/WAI's (Web Content Accessibility Guidelines/Web Accessibility Initiative) standards and guidelines, building an accessible website and applications, social media that's disability-friendly, and more. Give your organization the kickstart it needs to improve your accessibility standards from the boardroom to the mailroom.