Flexible. Convenient. Interactive.
Disability Etiquette Training for Customers, Co-workers, and Employees Course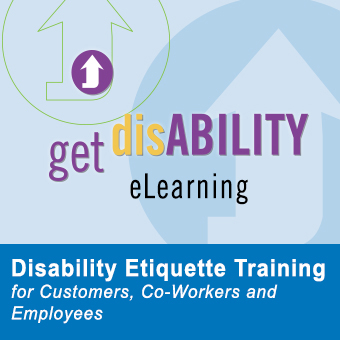 Not everyone knows how to interact with people with disabilities. Worse yet, some people think they do and their actions can actually be offensive. Hiring an individual with a disability or someone who may need an accommodation can lead to apprehension among co-workers about how to communicate with their new coworker. Employees that deal with the public can also be unsure of how to interact when they encounter a customer with a disability. Give your team the knowledge and skills they need to create a supportive and welcoming environment that's inclusive for all.
Presented in a 45-minute eLearning self-paced course, participants will increase their confidence in respectfully interacting with employees or customers with disabilities, and in creating a corporate culture that's more inclusive to all. Employees will learn more about: disability myths, fears and attitude barriers, appropriate etiquette, seeing beyond the disability and focusing on the ability, service animal etiquette, communicating through an interpreter, decreasing liability exposure, and more. Creating a more inclusive corporate culture or customer experience starts with educating everyone in the organization about being more aware of individuals with disabilities.