Flexible. Convenient. Interactive.
Compliance Edition: OFCCP – Section 503 Directive: Applicant Tracking System – Accessibility or Accommodation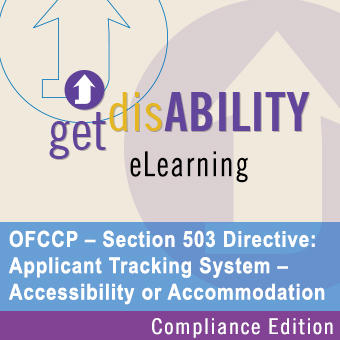 What you don't know can hurt you—especially when it comes to your applicant tracking system (ATS). If your ATS vendor isn't providing equal access or keeping accurate counts of applicants, they could be putting your organization at risk. Knowing about possible exposure regarding disability inclusion is a must in today's competitive business environment. Keep your organization one step ahead on disability compliance with one easy eLearning course.
Created for senior management, HR, legal and compliance teams, this course provides valuable information in positioning your organization to achieve positive results during an OFCCP audit and meeting EEO requirements. Learn the difference between accessibility and accommodation and how your applicant tracking system can put you at risk of possible exposure. The course also provides a range of solutions from quick fixes to more viable long-term inclusion solutions, as well as the pros and cons of instituting each one. Uncover any potential gaps in your process today and increase your ability to create a more diversified workplace