Flexible. Convenient. Interactive.
Maximize YOUR Bottom Line with Employment Tax Credits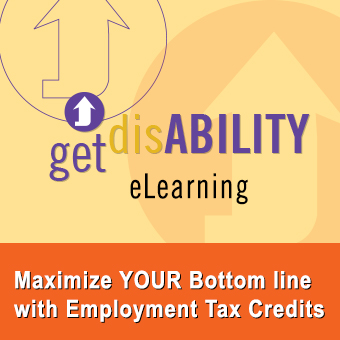 Hiring employees with disabilities isn't only good for creating a more diverse workforce, it can also be good for your bottom line. The U.S. Government offers a number of tax credits to companies that hire disabled candidates, but you have to know how to take advantage of those credits and if you qualify. Studies show savvy organizations that know how to maximize their return on investment from hiring individuals with disabilities can offset their hiring and training costs by as much as 20 percent.
Whether you're a business owner, CFO, HR, recruiter, controller, financial or hiring manager, you need the information in this eLearning course. Discover how to implement tax credits administration into your hiring process yourself or how to outsource it. Learn about how to find other state and local tax credits for which your company may qualify. You'll even be provided a formula to assist with the calculation of your potential tax credits to help you pluck this low hanging fruit that's just waiting for you. Let HirePotential help you start capitalizing on hiring employees with disabilities today. It's good for them and good for your organization, too.