Flexible. Convenient. Interactive.
Web Accessibility 101: The Facts Course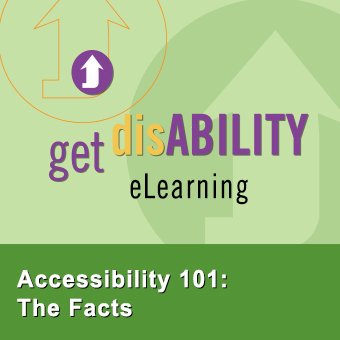 There are over 18 million Americans between the ages of 21 and 64 that are reported as having a disability. That means there are millions more that are unreported. Altogether, those numbers mean a significant percentage of the population has some form of disability. It also means businesses that aren't making their website disability- friendly are missing out on a huge number of potential employees, customers and candidates.
This highly informative eLearning course provides an overall understanding of web accessibility and its importance and impact on business. Participants will gain an understanding about the concept of universal design and how it benefits all, along with current accessibility laws and their potential legal and financial ramifications. There's also information on assistance in building a business case and who should be addressing these kinds of issues within your organization. This course is the perfect starting point for companies looking to create a more accessible website and workplace, and need to get up to speed on disability issues quickly. You'll also get the business case of why being more inclusive can help your company and your bottom line.
What you will learn:
Understand what web accessibility is, and why it's important
Explain specific examples of web accessibility, like keyboard navigation, or captioned videos
Articulate the concept of Universal Design